Sustainable Finance Roadmap 2022-2024
Sustainable Finance Roadmap 2022-2024
Building upon ESMA's Strategy on Sustainable Finance from 2020, the Roadmap is a tool to ensure the coordinated implementation of ESMA's broad sustainable finance mandate for the period 2022-2024. The Roadmap provides transparency on ESMA's sustainable finance deliverables and how they are expected to be sequenced over the coming years.
THREE OVERARCHING PRIORITIES
The Roadmap identifies three priorities for ESMA: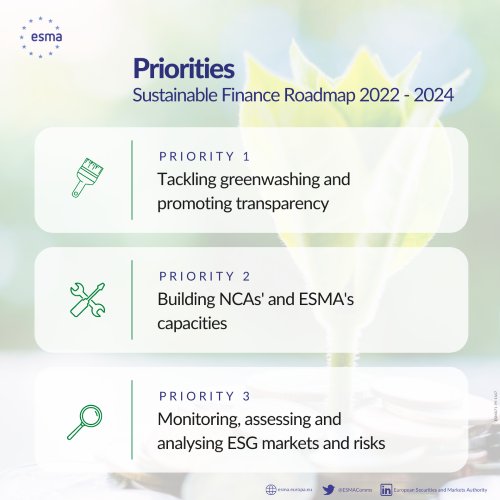 Sustainable Finance Roadmap Priorities - ESMA
Tackling greenwashing and promoting transparency
The combination of an increasing demand for ESG investments and rapidly evolving markets creates room for greenwashing. Greenwashing is a complex and multifaceted issue which takes various forms, has different causes and has potential to detrimentally impact investors looking to make sustainable investments. Investigating this issue, defining its fundamental features and addressing it with coordinated action across multiple sectors, finding common solutions across the EU, will be key to safeguarding investors.
ESMA and the other European Supervisory Authorities (ESAs) received a request for input from the European Commission on greenwashing risks in relation to sustainability claims and the supervision of sustainable finance policies. The request addresses three main areas: understanding and better monitoring greenwashing and related financial risks; taking stock of implementation and supervision of sustainable finance policies; and assessing the supervisory and enforcement response. The ESAs are asked to work "individually but in a coordinated manner". ESMA will leverage on the planned activities from its Sustainable Finance Roadmap to deliver.
Building NCAs' and ESMA's capacities
The growing importance of sustainable finance requires ESMA and national competent authorities (NCAs) to acquire new skills beyond their traditional areas of focus to understand and address the supervisory implications of new legislation and of novel market practices.
Monitoring, assessing and analysing ESG markets and risks
The objective is to identify emerging trends, risks and vulnerabilities that can have a high impact on investor protection and on financial market stability. ESMA will leverage on its data-analysis capabilities to support its own and NCAs' supervisory work and to promote a convergent approach among NCAs.
Click here for more information on the Roadmap priorities.
AN AMBITIOUS LIST OF DELIVERABLES
To address ESMA's three priorities, the Roadmap identifies an ambitious list of actions which ESMA will undertake between 2022 and 2024. Some actions will span several years while other actions will be completed within a shorter time period.
Actions will be undertaken in the following areas:

Sustainable Finance Areas of Focus - ESMA
Click here for more information on the main actions which ESMA will undertake in 2022.
The full details of ESMA's planned actions, including an indicative timeline, can be found in the Annex of the Roadmap.