COVID-19
Our response to COVID-19
The European Securities and Markets Authority (ESMA), together with National Competent Authorities (NCAs), is closely monitoring the situation in view of the continuing impact of the COVID-19 outbreak on financial markets in the European Union (EU).
Recommendations to financial market participants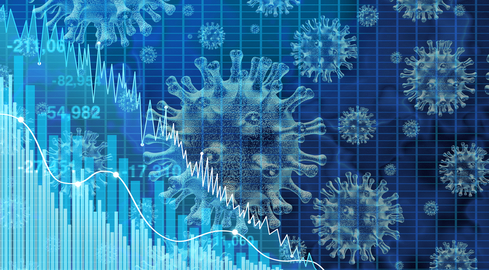 iStock 1209816384
ESMA has made the following recommendations to financial market participants:
Business Continuity Planning – All financial market participants, including infrastructures should be ready to apply their contingency plans, including deployment of business continuity measures, to ensure operational continuity in line with regulatory obligations;
Market disclosure – issuers should disclose as soon as possible any relevant significant information concerning the impacts of COVID-19 on their fundamentals, prospects or financial situation in accordance with their transparency obligations under the Market Abuse Regulation;
Financial Reporting – issuers should provide transparency on the actual and potential impacts of COVID-19, to the extent possible based on both a qualitative and quantitative assessment on their business activities, financial situation and economic performance in their 2019 year-end financial report if these have not yet been finalised or otherwise in their interim financial reporting disclosures; and
Fund Management – asset managers should continue to apply the requirements on risk management, and react accordingly.
Market Performance and Regulatory Actions
ESMA's position on Financial Markets and Regulatory Action​
EU Financial Markets and COVID-19​
ESMA's objective is to maintain markets that are open and orderly as they are vital for the functioning of our economy and financial system, especially in the current circumstances. Open markets allow the process of adjusting prices to new information to continue, and they provide liquidity to the benefit of investors by allowing them to rebalance portfolios and meet contractual obligations. ESMA, in coordination with NCAs, continues to monitor developments in financial markets as a result of the COVID-19 outbreak and is prepared to use its powers to ensure the orderly functioning of EU markets so that they benefit investors and support stability; and
ESMA and its Regulatory Actions in response to COVID-19
In response to the COVID-19 outbreak, ESMA has intensified its coordination with NCAs. To help market participants' business continuity, we have clarified the requirements regarding the recording of telephone conversations, have provided relief regarding a number of deadlines, including that regarding SFTR, and have coordinated the implementation of short selling measures in a number of member states. We will continue this strong cooperation with NCAs to respond to the current exceptional circumstances.
​Risk Assessment
​​On 3 June 2021 ESMA published its latest risk assessment for the European Union's (EU) financial markets.

The COVID-19 pandemic, in combination with existing valuation risks led to massive equity market corrections in the first quarter of 2020, which was followed by a remarkable rebound, not least in the light of notable public policy interventions in the EU and elsewhere. The resilience of the recovery critically depends on the economic impact of the pandemic, the potential decoupling of financial market performance and underlying economic activity raises the question of the sustainability of the market rebound looking forward.
ESMA sees a prolonged period of risk to institutional and retail investors of market corrections and very high risks across the whole of ESMA's remit.
ESMA updates its risk assessment every quarter.
ESMA Actions
ESMA, along with the NCAs, has taken a number of initiatives to address the effects of the COVID-19 pandemic in the following areas:
Benchmarks Regulation (Expired)
ESMA issued a statement to promote coordinated action by NCAs regarding the timeliness of fulfilling external audit requirements for interest rate benchmark administrators and contributors to interest rate benchmarks. This statement has expired. ESMA has currently no indications that due to the COVID 19 pandemic, any further extension of the external audit requirements for interest rate benchmark administrators and contributors to interest rate benchmarks is required. As such, ESMA is currently not promoting any further coordinated action by the NCAs regarding the timeliness of fulfilling the external audit requirements in relation to COVID 19.
Corporate Disclosure Issues
ESMA has published statements relating to the application of IFRS 9, Alternative Performance Measures, reflecting the effects of COVID-19 in half-yearly and interim financial statements:
EXPIRED – ESMA also published the following statements to address difficulties encountered by issuers in meeting specific financial reporting deadlines and in accounting for COVID-19-related rent concessions. These statements have expired as they relate to past financial reporting obligations or have become outdated due to the evolution of the regulatory environment in the EU:
Credit Rating Agencies Supervision
ESMA, as the single EU direct supervisor of Credit Rating Agencies (CRAs), is continuously engaging with CRAs to assess the impact of COVID-19 on their businesses and operations.
In its engagement, ESMA focuses on business continuity and adherence to key requirements of the CRA Regulation concerning, for example, the proper application of methodologies, conflicts of interest, internal controls, transparency and governance.
In addition, ESMA is closely monitoring CRAs' rating actions through enhanced data analytics to assess the possible impact of ratings actions on financial stability, this information is shared with NCAs, and other stakeholders. Furthermore, ESMA discusses CRA actions in the context of COVID-19 with regulators around the globe.
Bilateral margining requirements - one year deferral of the implementation phases
The European Supervisory Authorities (EBA, EIOPA and ESMA – ESAs), in response to the COVID-19 outbreak have published joint draft Regulatory Technical Standards (RTS) to amend the Delegated Regulation on the risk mitigation techniques for non-centrally cleared OTC derivatives (bilateral margining), under the European Markets Infrastructure Regulation (EMIR), to incorporate a one-year deferral of the two implementation phases of the bilateral margining requirements.
EMIR REFIT REPORTING REQUIREMENTS – EXTENDED CONSULTATION (EXPIRED)
The European Securities and Markets Authority (ESMA), the EU's securities markets regulator, has decided, in view of the effects of the ongoing COVID-19 pandemic on stakeholders and market participants, to extend the response date for the consultation on the technical standards on reporting, data quality, data access and registration of Trade Repositories under EMIR REFIT to 3 July 2020.
Fund Management Periodic Reporting
ESMA has published a statement promoting a coordinated risk-based approach by NCAs to their supervision of fund managers compliance with their periodic reporting obligations:
ESMA published statements on application of the Money Market Funds Regulation (MMFR) aiming at providing clarification on a number of issues, notably on external support and stress test scenarios.
MiFID II/MiFIR Measures
ESMA has published a number of statements on MiFID II/MiFIR aimed at providing clarification on a number of issues to financial market participants. These include:
ESMA issued a public statement on 11 June to clarify the application of the MiFIR open access provisions (OAP) for trading venues (TVs) and central counterparties (CCPs) in light of the recent adverse developments related to COVID-19. It aimed to coordinate the supervisory actions of national competent authorities (NCAs) by setting out the issues they should consider when assessing OAP requests in view of the end of the transitional period initially expected to expire on 3 July 2020.
A few weeks later, the co-legislators agreed on an extension by one year of the transitional period, i.e. agreed on the postponement of the entry into application of the MiFIR open access provisions regarding exchange-traded derivatives until 3 July 2021. This was then published in the Official Journal on 3 July 2020.
EXPIRED – ESMA has also published the following statements that have expired as they relate to specific time limits:
Short Selling Measures
In the areas of short selling ESMA has taken the following action:
On 16 March ESMA has issued a

decision temporarily

requiring the holders of net short positions in shares traded on a European Union (EU) regulated market to notify the relevant national competent authority (NCA) if the position reaches or exceeds 0.1% of the issued share capital;

Lowering the threshold is a precautionary action that is essential for authorities to monitor developments in markets. The measure can support more stringent action if required to ensure the orderly functioning of EU markets to underpin financial stability and investor protection;

For the EU financial markets as a whole, while there was some increase in net short selling positions, there is no indication that at this stage short selling is negatively impacting the functioning of markets. However, a number of NCAs have taken action in national markets reflecting particular national conditions and risks to market functioning of short selling. ESMA has issued positive opinions on the short selling measures adopted by those National Competent Authorities.

ESMA, with NCAs, will continue to monitor developments in this area and are ready to act, if necessary.

On 10 June ESMA renewed its

decision

on short net positions effective 17 June 2020 for a period of three months.

On 17 September ESMA renewed its

decision

on short net positions effective from 18 September for a further three month period.
ESMA has issued positive opinions on short selling measures by the following National Competent Authorities:
Securities Financing Transactions Regulation Backloading
ESMA has issued two statements on coordinated supervisory action on the application of Securities Finance Transactions Regulation (SFTR):
SETTLEMENT DISCIPLINE POSTPONMENT
ESMA has submitted and published draft technical standards to postpone the entry into force of the CSDR Delegated Regulation on settlement discipline in view of the COVID-19 pandemic consequences and following a request from the Commission:
ESMA Timeline
ESMA has made the following announcements related to its COVID-19 work since 11 March: